Website Development and Design - The Best Online Solutions
Great website development and design is the key to the success of your business website and brand. You can also get the best web development training from the professionals so that you know how things work in the online arena.
Get Customized Quote
My Portfolios

Top Digital Solutions for You

Website Development
This is also called web programming and it involves creating a website from scratch with the use of the latest tools and languages such as CSS, HTML, JavaScript and the like. In the case of an existing website, enhancement can be done to improve the responsiveness of the navigational interface or developing a better web application and social network for your business online. Web development includes web design, content development, server-side scripting, functionality as well as network security configuration.
Website Development
This is the technical side of creating a website, which you
could also learn from web development training. Hire the experts in CMS (Content Management System) as well as JAVA, PHP, and Angular JS and others.
Custom wordpress theme
This involves creating everything from scratch or making changes on an existing website that needs changes to better cater to the appeal of your target clients or provide the proper brand image that you want your website to project.
Website Support / Maintenance
I provide not just web application development but also maintenance for a website like security checkup, regular update plugin and Wordpress.
Front-End / Back-End Development
Your content goes here. Edit or remove this text inline or in the module Content settings. You can also style every aspect of this content in the module Design settings and even apply custom CSS to this text in the module Advanced settings.

Website Design
Web design focuses on the theme and interface of the website so that the look and feel are consistent with the brand that your business wants to project. This requires various skills and techniques for a smooth production including layout, color scheme and everything concerning the visual aspects of the website. The graphic and logo designs, call-to-action button placements, branding and more are decided by your web designer; all these to breathe life to your desired website appearance.
WEbsite designing
I offer professionally designed, responsive, and attractive web
designs that appeal to your targeted market and potential customers for better leads and quality sales. You can also learn them through web development training.
WordPress, Shopify, Laravel
I specialise in WORDPRESS, LARAVEL, SHOPIFY, taking pride in expertise skills to create a website in these three CMS and frameworks and some
others.  I provide web development training course also offers details on these platforms.
API development
API Development is primarily focused on API – Application Programming Interface. It requires the integration of various API's with two different websites. It is also usual here to use many third-party APIs.
Website Customization
You can easily get personalized your website associated to CMS such as WordPress and Shopify. Want to get done static or dynamic website customization? Then I will do it for you and have done it for a lot of websites already. Theme and Plugin customization could
also be added or customized to fit your personal preference when having your website customization done.
Build and enjoy an excellent business website with our wide range of top quality web solutions and services or enrol in our web development training today!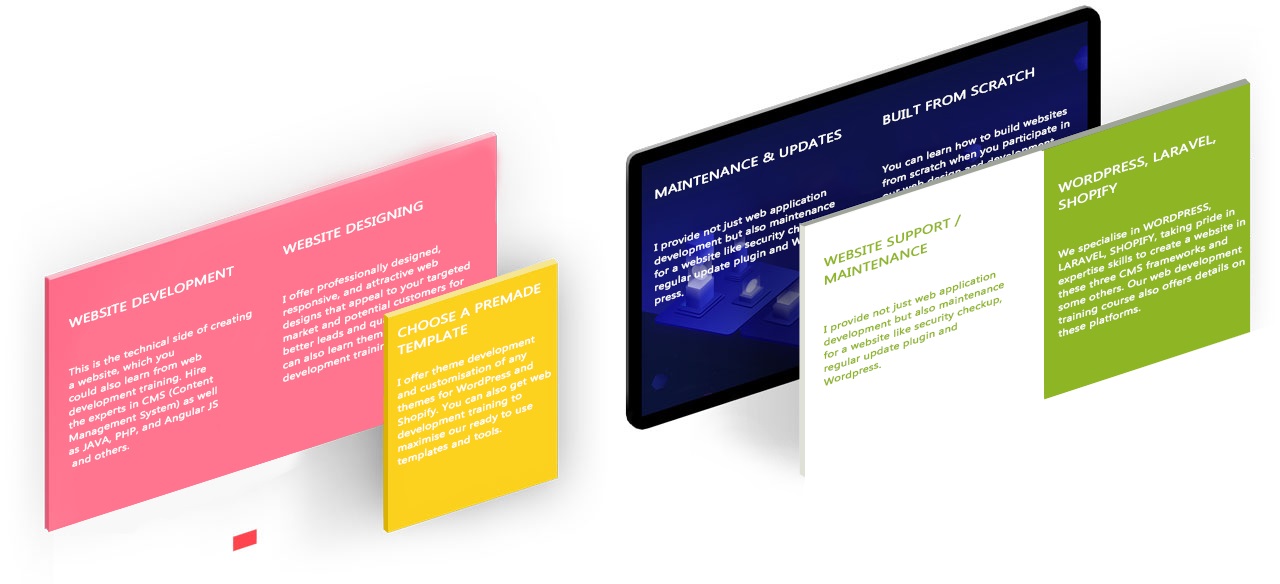 Website Development
Custom WordPress Theme Development
This involves creating everything from scratch or making changes on an existing website that needs changes to better cater to the appeal of your target clients or provide the proper brand image that you want your website to project.
Responsive WordPress Theme
Quality and Structured Code
SEO Based Theme
Professional and Attractive Design
Completely Dynamic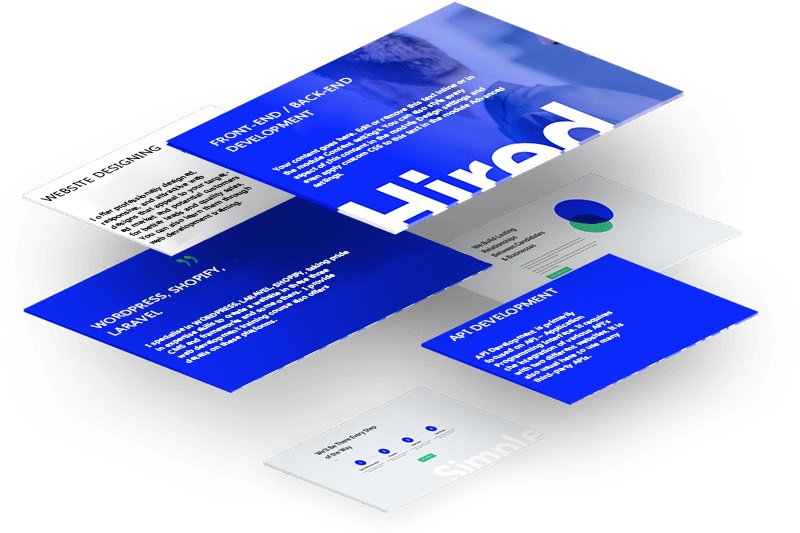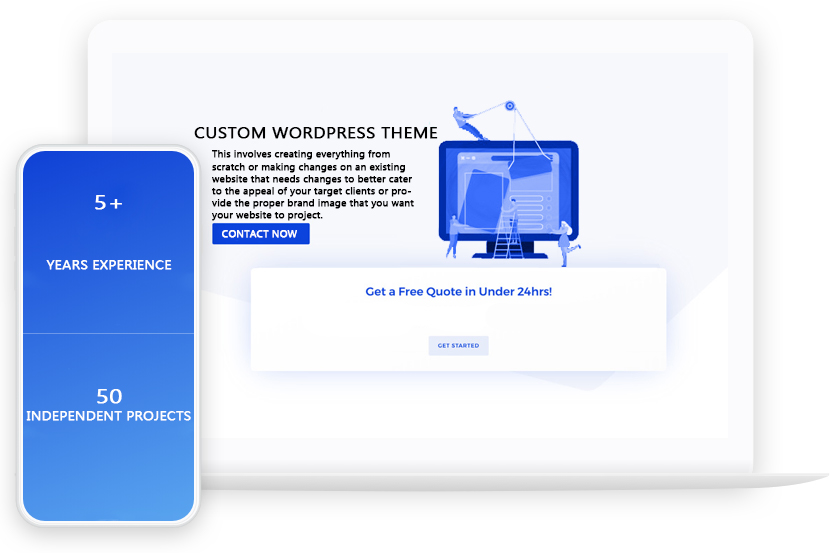 Website Development
Web Application Development
Though the process of web application development requires coding, the following stages play a more important role in this life cycle:
Data gathering to determine your purpose, primary goals, and your target audience
Planning your sitemap as well as wireframe creation
Designing your page layouts, then undergoing review and approval phase
Writing the web contents and assembling the coding
Coding and creating the website itself
Doing the testing, review and finally launching the website
Providing maintenance by executing regular updating and monitoring of the website progress and contents
Ecommerce Theme Development
Using or creating the right e-commerce theme for your website shows the brand image that you want to project to your target audience. It addresses the visual presentation not only of your web contents but also of other data including the behavior of your website while interacting with your visitors, who will most likely be your prospective customers.
WordPress Website Security
Your WordPress website security must always to top-notch to show that your company is a trusted and reputable business. This way, hackers will not be able to steal user data and passwords, nor should they be able to spread any malware or malicious software on your website and your site visitors. Get your website well protected so your prospective clients feel secure in your company and remain as your regular patrons, whenever possible. 
Web Portal
Have a web portal that allows you easy access to your controls and procedures. Having it professionally done allows you easy navigation, improved productivity while establishing long-term relationships with other users. Want a portal that enables you to do universal login? I can create it to do that and more.
Website Migration and Performance
Getting an expert to do your site migration and performance allows you to focus on the actual job of addressing your clients' needs. Allow me to do substantial changes to your website's location, structure, content, platform, design, and UX to increase the visibility of your web pages. The bottom line, becoming more visible to searchers means higher page rankings for your web pages, thereby giving you more chances of getting more clients.
My Website Design and Development Process
Through the years, I have come to follow this process and have found it to be highly effective when creating the website design and development of each client.
Collecting Information
This initial stage, getting all details from the client including his business goals and how you can create the website to help him succeed in his actual business is most important. The information collected covers the purpose of the website, the goals of the website, its target audience and content to be created for it.
Conceptualization and Planning
On the information collected, I can now create my client's website concept and develop a site map. My site map will cover all areas of the website, which will serve as my guide on what content will be needed for each page and how to develop a good navigational structure that will be ideal for your client. 
Technologies to be used on the website will also be determined in this phase including the CMS or content management system and WordPress theme and plugins to be added.
Testing and Delivery
On what was planned, the website's appearance and feel are made. Your target audience will dictate how this will become since it should be created to be appealing and easy to navigate for them. Your company logo and color scheme is also determined at this phase.
The prototype design is now available for viewing at this point. A picture of the overall look of how your website will look once it is done is given to you.
Testing and Delivery
Approval of the prototype design showed to you, the actual website pages are created and checked to be easily navigated by your clients. The contents for your pages have also been written and published at this point. 
Maintenance
The website is now up and running and is already accessible to your clients, you now have to decide at this stage whether to continue to add new content or services or products by yourself or let me continue doing the maintenance for you.
Involves putting new content regularly to encourage your clients to return to your website regularly and get new clients who are looking for your kind of products or services. It also involves doing updated checking that plugins and SEO (Search Engine Optimization) practices are implemented. fake rolex oyster watch straps
fake breitling superoceanl replica rolex